A Tech Smart School
We integrate technology as a part of our curriculum with the aim of enabling our children to adopt to a growing technical world. Nalapad Academy is equipped with Wi-fi zones, Apple Learning Centres, Apple Tv's in classrooms and children are given I-Pads for an interactive learning experience. Our faculty undergo continuous training programs in order to enhance teaching methods in line with industry requirements.
Swimming Pool
Our state of the art, half olympic sized heated swimming pool is made keeping in mind the physical activities that aids a child's growth.
Squash Court
The number of benefits associated with playing squash are innumerable. Developing agility, sharpens hand eye coordination, compels flexibility and boosts cardiovascular health are just a few aspects that squash helps with. At Nalapad Academy, learning and sports go hand in hand.
Archery
The sport of Archery has been linked with a numerous health benefits ranging from developing strength, focus, coordination and patience to developing upper body strength. Sporting activities form an integral part at Nalapad Academy.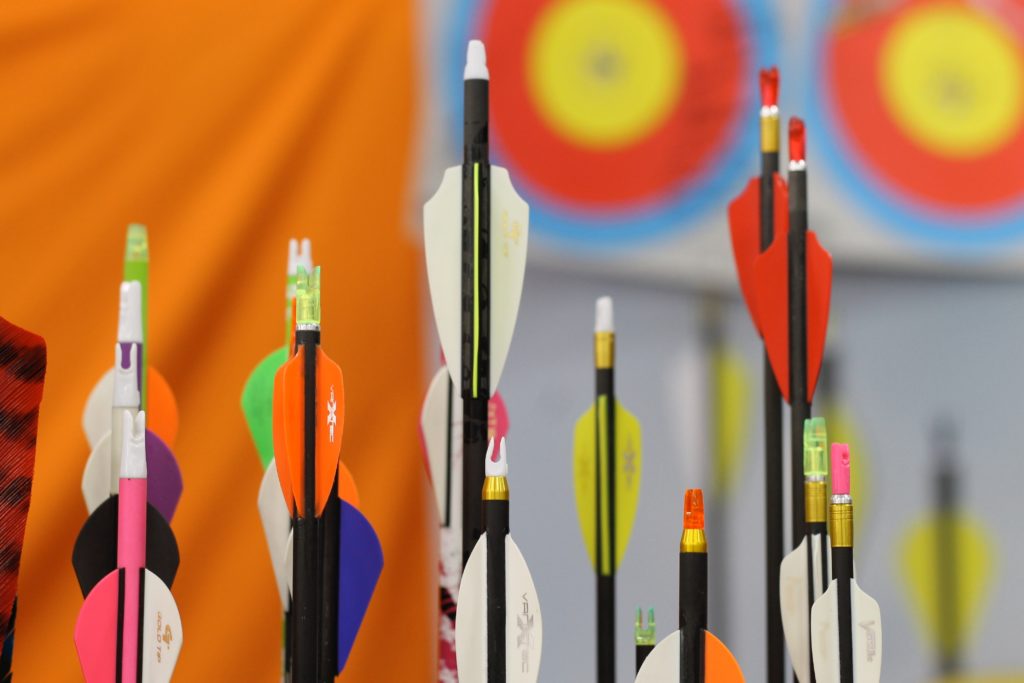 Football Turf
Football is one of the most engaging and physically exhaustive sports. It is scientifically proven to improve aerobic capacity, cardiovascular health, muscle strength and many more. We believe that everyone of our children should engage in sports that develop them physically as well as mentally.
Nutrition
Our food choices each day affect our health — how we feel today, tomorrow, and in the future. Good nutrition is an important part of leading a healthy lifestyle. Combined with physical activity, our diet can help us reach and maintain a healthy weight, reduce our risk of chronic diseases and promote overall health.
Our well-equipped cafeteria has healthy and balanced meals crafted by our nutritionists and expert chefs who will ensure that your child's diet is nourishing & fulfilling.
Infirmary & Healthcare
We at Nalapad Academy believe that our students' safety and well-being are of utmost importance. Our health services are extended to both students and staff members with a view of maximizing general health and awareness. Our infirmary is equipped with two beds and state-of-the-art medical equipment to meet the immediate health requirements of a child that may arise during school hours. A certified nurse is responsible for treating and looking after the children. The nurse also maintains a comprehensive record of each student's medical history. This helps in catering to the unique health needs of every child. A Memorandum of Understanding has been created between our organization and the Manipal Group of Hospitals.
Security
Premise is fully equipped with extreme coverage cctv. Our vertical approach also ensures a complete control over the student activities throughout the day in the academy.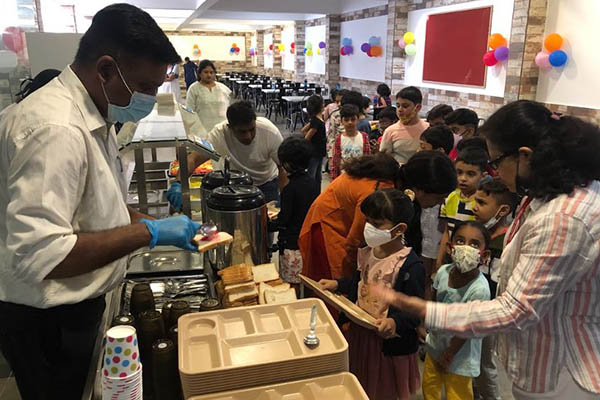 Cafeteria
Isn't it simply amazing how food was not merely meant to satisfy bodily hunger but also holds the power to satisfy our soul's hunger for communion when enjoyed with others? How many souls have bonded over a simple meal! The canteen, then, becomes a compelling inclusion to any school campus. A hygienic environment and nutrition-dense food are the two prime requisites for a school canteen.
We at Nalapad Academy believe that health is not to be trifled with. Our canteen's sanitary environment and the fresh, delicious, and healthful menu are sure to cater to the dietary needs of children of all ages. The canteen not only serves as a place to learn healthy eating habits but also plays an important part in building companionships.
Laboratories
Science is not simply a subject but permeates through all of life. Therefore, simply theoretical study will never suffice. Understanding science and its concepts require practical knowledge Nalapad Academy believes in nurturing a child's inner researcher and scientist through well-stocked laboratories. Our labs are used for imparting knowledge in Physics, Chemistry, Biology, Computer Science and Robotics. All the necessary chemicals, specimens and instruments are available in adequate quantities to ensure that every student gets to carry out individual experiments. Experienced and qualified teachers, Lab Assistants oversee and guide the students in their experiments. Every child's safety while handling chemicals and carrying out experiments is duly taken care of.
Transportation
Commuting from different locations can be problem especially when you have to drop your child to the school and then go to the office which is on the other side of the city. At Nalapad Academy we have a fleet of school buses that are well maintained and in pristine condition, The Transport team is very experienced and makes sure that your child is safe, picked up on the right time and dropped back at your point.
At Nalapad Academy we undertake background verification of every employee and make sure that they are perfect for the work.
All the buses have been equipped with GPS enabled devices that lets us know the location of where each bus is at any given moment and the same access is shared to the parents.
Keeping safety in mind, every bus has a camera installed on board and is monitored every day.
All of the school buses have emergency exits, a fire extinguisher and a medical kit for added safety.
Auditorium
The State of the art infrastructure with the seating capacity of over 450, aesthetically designed A/c and sound proof auditorium creates a favorable environment for student's holistic development;
The auditorium plays a vital role in the daily routine of the school. It bears witness to the solemnity of the various cultural as well as entertainment events regularly organized here. Many inter-house competitions held here and cater to the various talents of the students.
Library and Digital Library Services
At Nalapad Academy, our library and digital library services extend beyond providing access to books and online resources.
We offer a range of services to support the academic and research needs of our students. These include reference assistance, research guidance, bibliographic support, and access to academic databases.
We also prioritize cultivating a culture of reading and information literacy. Our library hosts book fairs, author visits, and literacy events throughout the year, celebrating the joy of reading and encouraging students to explore diverse literary genres.
In addition to supporting curriculum-related needs, our library and digital library also promote recreational reading and independent learning. We believe in nurturing a lifelong love for reading, where students can discover new worlds, explore their interests, and develop a thirst for knowledge beyond the
confines of the classroom.