Dr. NA Mohammed
Chairman - Nalapad Academy
Dear Parents, Students, and Educators,
I am thrilled to welcome you to Nalapad Academy, a place where education transcends borders and cultures to shape the minds and hearts of future global citizens. As the founder, it is an honor to share with you the vision and mission that underpin our institution.
At Nalapad Academy we believe in the power of education to transform lives. We strive to create an inclusive and nurturing environment where every student can flourish academically, socially, and emotionally. Our commitment to excellence is rooted in providing a holistic education that fosters intellectual curiosity, critical thinking, and a passion for lifelong learning.
One of our fundamental goals is to cultivate a multicultural community that celebrates diversity and promotes intercultural understanding. We recognize that in today's interconnected world, it is essential for students to develop a global perspective, empathy, and respect for different cultures and perspectives. Through a comprehensive curriculum, enriched by diverse experiences, we aim to equip our students with the skills and knowledge they need to thrive in an increasingly interconnected and dynamic world.
Our team of dedicated educators is at the heart of our school. They are not only highly qualified professionals but also compassionate individuals who are passionate about their craft. They understand that education extends beyond textbooks and assessments. With their guidance, we encourage students to embrace creativity, explore their passions, and develop their unique talents. We aim to create a learning environment where students feel empowered to take risks, embrace challenges, and become lifelong learners.
As a parent, I understand the significance of choosing the right school for your child. At our international school, we are committed to providing a safe and nurturing environment where students can grow and thrive. Our state-of-the-art facilities, coupled with innovative teaching methodologies, support an engaging and interactive learning experience. We value open communication and encourage strong partnerships between parents, students, and teachers to ensure each child receives the individualized attention they deserve.
I invite you to explore our website and discover more about our international school. Whether you are seeking an education that transcends boundaries, fosters global citizenship, or prepares students for a successful future, we are confident that our institution will meet and exceed your expectations.
Together, let us embark on a transformative educational journey that empowers our students to become compassionate leaders, critical thinkers, and responsible global citizens.
Mr. N. A. Haris
Founder & Managing Director
Nalapad Academy
An Education Icon and Visionary Leader
Mr.N A Haris is an Entrepreneur, Member of Legislative Assembly – Karnataka ,Vice-president of the All India Football Federation (AIFF), and the esteemed Director of Nalapad Academy, With a profound commitment to shaping young minds, Mr.NA Haris stands as an inspirational figure in the field of education. Recognized as the Education Icon of the Year 2020 by Education Today, his visionary leadership and outstanding achievements have made a significant impact on the lives of our students.
At Nalapad Academy, our vision is to provide a nurturing environment where students can thrive intellectually, creatively, and emotionally. Under the guidance of Mr.NA Haris, this vision has become a reality, as he continually emphasizes the importance of holistic education. By cultivating an atmosphere of inclusivity, curiosity, and innovation, he has created a place where students feel empowered to explore their passions and reach their full potential.
He firmly believes that education should extend beyond the confines of textbooks. His mission is to develop well-rounded individuals who possess not only strong academic knowledge but also essential life skills. With an unwavering commitment to character building, he encourages students to embrace values such as integrity, empathy, and resilience. By instilling these values in the hearts of every student, He ensures that they become compassionate leaders and responsible global citizens.
Under his leadership, Nalapad Academy has achieved remarkable milestones. Through his strategic vision, the school has consistently ranked among the top educational institutions, recognized for its academic excellence and innovative teaching methodologies. He has spearheaded initiatives to enhance the quality of education, fostering a dynamic learning environment that encourages critical thinking, collaboration, and creativity.
Furthermore, He has actively promoted a culture of continuous improvement among the faculty and staff at Nalapad Academy. He believes that investing in professional development is crucial to maintaining a high standard of education. By encouraging teachers to engage in ongoing training and equipping them with the latest pedagogical techniques, Mr.NA Haris ensures that students receive an education that is both enriching and future-oriented.
As the Education Icon of the Year 2020, Mr.NA Haris has inspired countless educators and students across the nation. His passion for education, dedication to student welfare, and unwavering pursuit of excellence have set him apart as a true visionary leader. With his guidance, Nalapad Academy continues to thrive as a center of academic brilliance and holistic growth
Under his leadership, Nalapad Academy is poised to continue its journey towards educational excellence, empowering future generations to make a positive impact on society.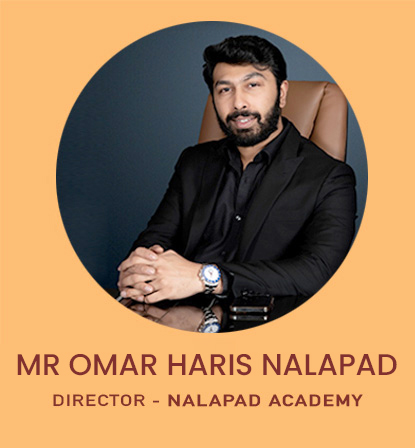 Mr. Omar Haris Nalapad
Director - Nalapad Academy
Mr. Omar Haris Nalapad is a dynamic and visionary young professional serving as the Director of Nalapad Academy. he pursued a master's degree in Management and Entrepreneurship from Regent's University, United Kingdom.
With his fresh ideas and unwavering commitment, he plays a pivotal role in supporting and furthering the vision and mission of Nalapad Academy. His journey as an educator is driven by his commitment to providing quality education and making a meaningful impact on the lives of students and educators alike.
Mr. Omar Haris Nalapad fully aligns himself with the vision and mission of Nalapad Academy. He embraces the institution's goal of providing progressive and quality education, aiming to nurture well-rounded individuals. His passion for education and belief in the potential of every student drive him to constantly innovate and create an inclusive learning environment.
He brings a fresh perspective to Nalapad Academy, embracing new ideas and innovative approaches in the field of education. He understands the evolving needs of students in a rapidly changing world and encourages a dynamic curriculum that incorporates modern teaching techniques, technology integration, and skill-based learning. With his forward-thinking mindset, he actively seeks out opportunities to enhance the educational experience for students.
One of his key focuses is ensuring that Nalapad Academy maintains a student-centric approach to education. He strongly believes in personalized learning and recognizes the importance of understanding each student's unique strengths, interests, and learning styles. By fostering an environment that values individuality and tailoring educational experiences to suit diverse needs, he aims to empower students and help them reach their full potential.
As a young leader, Mr. Omar Haris Nalapad promotes a culture of collaboration and teamwork within the Nalapad Academy community. By fostering a sense of ownership and shared responsibility, he aims to create a supportive and inclusive educational ecosystem where everyone's contributions are valued.
Understanding the importance of community engagement, Mr. Omar Haris Nalapad actively seeks opportunities to connect Nalapad Academy with the broader community. He encourages students and staff to participate in social initiatives, fostering a sense of social responsibility and empathy. By nurturing strong ties with the community, he aims to create a positive impact beyond the boundaries of Nalapad Academy.
Mr. Omar Haris Nalapad recognizes the importance of continuous growth and development, not only for students but also for the entire Nalapad Academy team. He invests in professional development programs and workshops to empower teachers and staff with the latest teaching methodologies and best practices. By fostering a culture of lifelong learning, he ensures that Nalapad Academy remains at the forefront of educational excellence.
As the Director of Nalapad Academy, Mr. Omar Haris Nalapad embodies the spirit of a young leader with new ideas and a strong commitment to the institution's vision and mission. With his student-centric approach, collaborative leadership style, and dedication to innovation, he is driving positive change and fostering a progressive educational environment at Nalapad Academy.
Since 2019, he has led the school to four consecutive years of receiving Times Education Excellence's Rank 1 Emerging International school and Preschool award; Ranked 8th in Karnataka – Top International Day Schools by Education World; Dynamic Schools Award by Education Today, Ranked No.1 in Student Advancement & Mentoring by Education Today; India's Top 50 International Preschools by Education Today.
These truly remarkable achievements would not have been possible without the visionary guidance of Mr.NA Haris, a true educationist , as well as the efficient planning and execution of the school's many international programs by his son Mr Omar Haris Nalapad.
Ms. Aruna Kalyanaraman
Principal - Nalapad Academy
Aruna Kalyanaraman brings her rich and diverse experience in teaching Math and leadership skills to the Nalapad Academy Principal's office.
She has been in education and academics for 30 years, out of which five years were in New Jersey and New York. She has taught Math for CBSE, AP, Cambridge, and IBDP. And then on, she has held the roles of an IGCSE Coordinator and HOD (Math) at Canadian International School, Bangalore, Head of School, IBDP Coordinator and College Counsellor at CPS Global, Chennai, Dean of Academics and College Counsellor at Candor International School, Bangalore, and Principal at Empyrean School, Navi Mumbai. In addition, she is an IB Examiner and Moderator.
At CPS Global Chennai, she has the distinction of starting the second SAT Center in Chennai, the first being the British Council. As a result, she introduced the AP curriculum, encouraged her teachers to undergo AP training, and mentored them to teach this program.
Her educational qualifications include M.Sc. (Maths), M.Sc. (Statistics), B.Ed., and PGDCA.
She has guided many of her students to successfully secure admission in reputed educational institutions, including MIT, Cornell, Duke, Purdue, Columbia, Boston College, and Lafayette in the US and other top institutions in the UK, Europe, and Asia.
She belongs to a new-age teaching fraternity and fully understands the requirements of global citizenship, including 21st Century skills, imparting international mindedness with socio-politic-economic-environmental understanding, future technologies, and risk management.
She is self-motivated with a positive outlook, committed to students and colleagues, and dedicated to academics and co-curricular activities.
In her last engagement at Empyrean School, Aruna was acknowledged and recognised by renowned academicians and institutes for her contribution to the world of education.
During her tenure at Empyrean, she has won several awards, which include:
Excellence in Green Initiative Programs – Eldrok, 2019
Innovation in Pedagogical Practices – World Education Awards, 2019
Best School Leader, Promoting Holistic Education – Sahodaya, 2022
Campus Design Excellence by Education World
Best Principal Implementing Experiential Learning Practices, 2023
Essence of an Empowered Woman
Under her guidance, Empyrean has achieved numerous milestones in diverse fields, leaving an indelible mark in many hearts. She has been unwavering in her dedication and unrelenting in propelling the institution to great heights.
At Nalapad, she will usher and sustain these practices:
Self-awareness
Empathy
Critical thinking
Creative thinking
Decision making
Problem solving
Effective communication
Interpersonal relationships
Stress management
Emotional management
As a leader, Aruna will strive to enable Nalapad Academy to cross many more milestones in the field of education. She has this five-point core agenda:
Encouraging our children to be questioning, creative, curious, and caring.
Nurturing our teachers to be compassionate, collaborative, and contextual.
Meeting with parents and building a successful ecosystem for higher studies.
Following our vision of creating empathetic leaders through our holistic and innovative approach and nurturing them into lifelong learners who contribute globally.
Adhering to the mission of nurturing global citizens through a stimulating learning environment that encourages core values, honesty, integrity, creativity and empathy.