Our Learning partners are a diverse group of experts and organizations who are dedicated to providing high-quality education and training opportunities. They have been carefully selected for their experience and expertise in various fields, and we are confident that they will be valuable resources to our students as they pursue their learning goals. Whether they are looking to gain new skills, or simply expand their knowledge, our partners are here to help.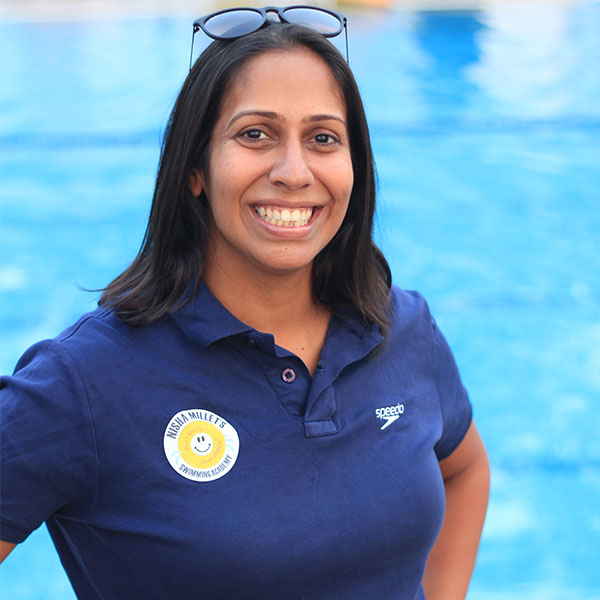 NISHA MILLET SWIM ACADEMY
Nisha Millet is the first Indian swimmer to qualify for Swimming at the Olympics, She swam the 200 Freestyle at the Sydney Olympics at the age of 18. She has won more than 600 state,National & International medals over a 14 year career & represented India at the world swimming championships (1998 and 2004) & Asian Games(1998). She now runs one of India's premier swimming academies that teaches at 10 pools across Bangalore & teaches more than 3000 people a year aged between 1 to 75 years. NMSA is one of the few Swim centers to receive the prestigious AUSTSWIM Recommended Swim Centre certification. She is a mom to 9 year old twin girls Adele & Ariana who are excelling in both swimming & crossfit. She is a certified counselor & mentors many top junior athletes. She is an Ultramarathoner, 5km sea swimathon winner & a top ranked crossfitter in her age group in the country. Her awards are as follows.
Arjuna Award – 2000( At the age of 18)
Rajyotsava Award – 2001(Karnataka's highest civilian award)
Indo – American Young Achiever Award – 2002
Prime Minister's award for Best Sportswoman at National Games 1997 & 1999
BFC
Bengaluru FC Soccer Schools began in 2014 through the spirit of the historic I-League winning team. Since then they have created, delivered, and evolved a full range of football programs to over 3000 boys and girls of all ages and abilities from across Bengaluru before expanding to Belgaum, Dehradun, and Pune.
Whether working with coaches or players from the grassroots, advanced, and national game or club partner customers, staff, and clients, their aim is the same. To inspire all participants to enjoy learning, playing, and coaching football through the Bengaluru FC story, youth culture, and philosophy.
They constantly evolve by combining the qualities of Bengaluru FC's 1st team & Youth success, with listening and learning from the many passionate and inspirational people they meet on their travels from different countries, cultures, and backgrounds.
Utsaah
Utsaah associates with Nalapad Academy for a more expansive and holistic approach to children's education and overall development. They help them provide the students with an array of programs and allow them the freedom to choose multiple courses in various disciplines, with dedicated and versatile instructors. Children here can identify and focus on key areas that need improvement – whether it is a lack of confidence in self or just an area of skills they are keen on learning – be it music, gardening, dance, drawing & painting, kalarippayattu, coding, Vedic Math's, space programs, career counseling, cooking and many more.
They provide an end-to-end solution such as.
Hobby Clubs – Annual customized training in different disciplines during & after school hours.
Short Term – Customized workshops in various disciplines
Events – Themed Productions in performing arts for special occasions like Annual day, Sports day, Founder's day, etc.
Goonj – Interactive demos by renowned personalities, artists
Wonder Stem
They strongly believe that the present student generations are much smarter and technologically savvy. It is the responsibility of the society in general to give them the opportunity to explore and learn by doing with the latest technology. The leading educational institutions in the developed countries have already armed themselves with advanced technologies through STEM education. LSCL Robotics Pvt. Ltd., in collaboration with their parent company, SCCIP, Japan has developed a unique teaching approach called STEM-Robotic education to impart STEM Education.
They have more than 20 years of experience in developing and implementing STEM-Robotics education with 100+ Robotic Study Centers in Japan conducting STEM-Robotic Education in Japan, USA, Thailand, Singapore, Sri Lanka and many more countries apart from India where they have more than 30 schools with more than 20,000 students all over India. They have initiated Collaboration and joint research with leading institutions in Japan, Korea and other countries. Their rich experience in primary, middle and high school STEM-Robotic curriculums development and have developed strategic alliances with robot's manufacturers and leading research labs across the globe.
Pralay Academy
Pralay Academy is India's premier institute providing turnkey solutions in Dance, Yoga and Sports & Physical Education. Their programmes are holistic and age appropriate for school students of various age groups designed to condition a healthy mind and to keep them active, fit and creative.
Pralay is a highly effective model that brings Dance, Yoga and Sports & Fitness to young children in a fun and engaging way, they have developed, managed and maintained a unique concept for children across all age categories at Nalapad Academy where every aspect of Pralay's concept has been carefully researched and developed to be both fun and beneficial to the development of young minds and bodies