NALAPAD ACADEMY- INSPIRED LEARNING WITH A DIGITAL EDGE
Always wished for your child to have a global perspective with a culturally diverse line of thought? Or that your child would use technology effectively? Here's your answer. Nalapad Academy is a Cambridge International school, which has balanced academics with technology, to make learning fun for students in their integrated primary year's program. The school has invested time and energy to devise tools to enhance the learning process.
Nalpad Academy aims to develop the 4C's of education that is Critical Thinking, Collaboration, Communication and Creative thinking, amongst today's children and empower them in the age of artificial intelligence, virtual learning and machine learning, which is the way forward.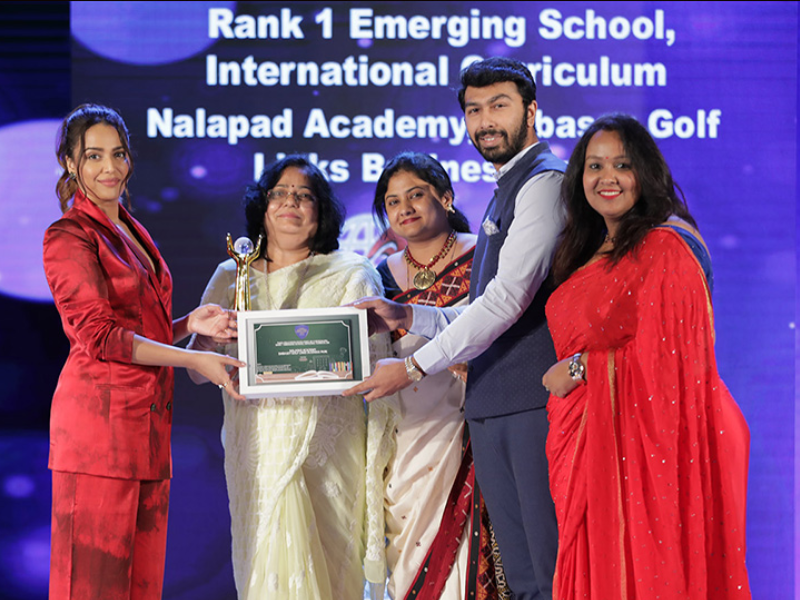 USE OF TECHNOLOGY AND DIFFERENTIATED LEARNING
All worksheets across different levels are designed using technology. Differentiated learning in the classroom is possible, as the facilitator can set up work for each child individually on their I-pad at their level (as gifted lessons or support lessons).
Assessments and assignments are given to students on their I-pads and they create several power point presentations, videos etc. Prodigy, an engaging Math tool, is a game where kids from grades 1 to 8 practice Math questions as they play.
At Nalapad Academy, continuous innovation and improvement is encouraged through concept based and differentiated learning, which includes all aspects of a student's life like school culture, team, capacity, community, finance, and measurement.
Nalapad, plans to integrate tech learning systematically and adopt all measures and processes for its implementation. The well trained facilitators use technological tools to measure learning. Facilitators' efforts to integrate technology into the lesson plans are recognized with awards, for motivation.
The school believes in using technology to enhance teaching and learning, so students are motivated to be lifelong learners and develop inquiry based instruction. Nalapad Academy aims to be an APPLE Distinguished School in 3 years, by employing differentiated and concept based learning, to develop pragmatic skills in students through real world engagement.
WORLD CLASS FACILITIES
Nalapad Academy has all facilities embedded with high-tech technology, including a 100,000 sq.ft. WiFi enabled space, 62 classrooms, three laboratories, and a library which are all Apple TV enabled. Students from grade 3 onwards use I-pad for learning, to promote higher knowledge retention.
ROLE OF NUTRITION
The international day boarding school focuses on a healthy mind and a healthy body. All meals provided are low in carbohydrates and rich in protein and minerals which are required by students. Students are encouraged to drink water at regular intervals, even if they are not thirsty. Parents are informed about the child's water intake every day.
MENTORING PROGRAMME
The unique mentoring programme ensures the same mentor for a student for 3 continuous years, so the child's emotional needs are met at school. Nalapad has one class of mentoring every day for students, where they follow a curriculum which strengthens the students and equips them to face the challenges of the world outside.
INTO THE WORLD OF NALAPAD NEST
Early Years play a crucial role in the development of a child's personality & overall development. Nalapad Nest supports the child's personal, social, emotional, physical, communication and literacy development by providing an age appropriate learning environment. The experiential learning approach and secure enabling environment allows children to learn through experiences.
Nalapad Nest aims to accomplish the highest level of tech-based literacy amongst children. Seven learning domains of EYFS help a child understand them on a very broad level. They are formulated for outcomes that add specific skillset to every child.
KEY AREAS OF FOCUS
Communication and language development
Physical development
Personal, social, and emotional development
Literacy development
Mathematics
Understanding the world
Expressive arts and design
MOM & ME
What more could a child ask for while entering the real world apart from their mother's presence alongside them while they explore, experience & learn. The entire process of adjustment in a new environment full of strangers (teachers & peers), gets much easier under the security & comfort of mothers. This unique environment focuses on a child's developmental needs by optimizing the mother-child bond factor by letting the mother be a part of each milestone in their child's life while they also learn, eat together, play, do all activities & experience things together. This way of learning brings about the maximum enthusiasm & curiosity in a child in turn making learning more fun & fruitful.
For more details call: 9120888888
Email id: Nidhi.t@nalapadacademy.com
Website: www.nalapadacademy.com